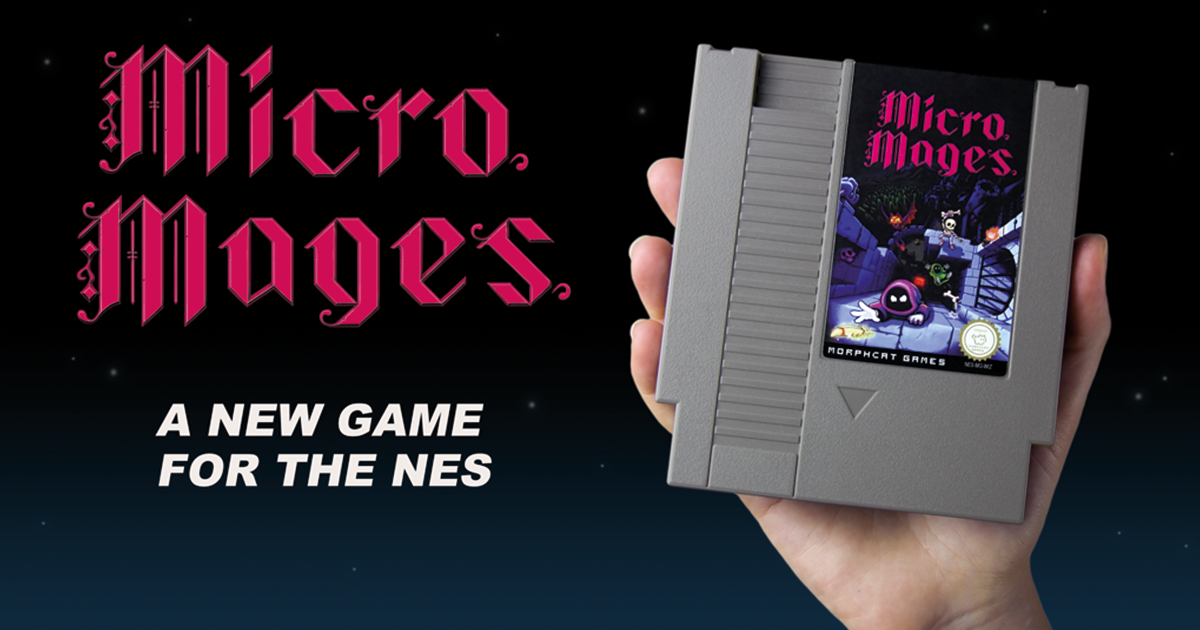 Micro Mages
A downloadable game for Windows
Includes:
- native PC version (Windows)
- NES ROM, playable on a variety of platforms via emulation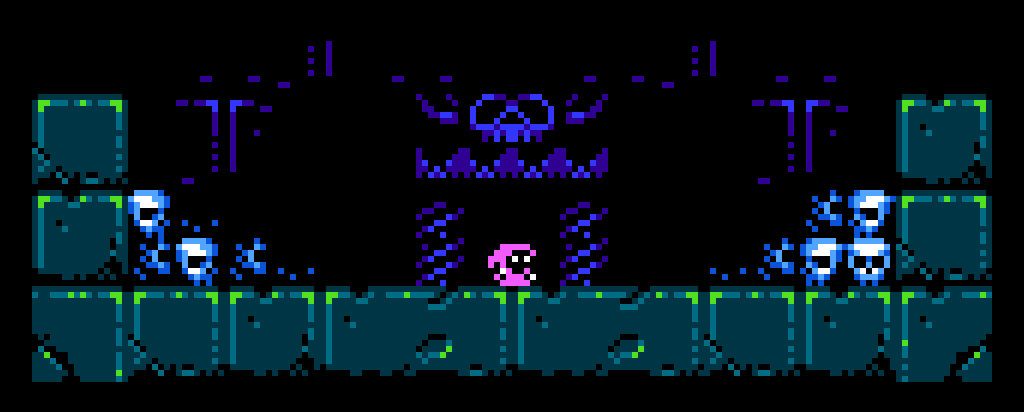 Micro Mages is a platform game developed for the original 8-bit NES console. Now available as a ROM file and native Windows PC version.

Slip into your wizard robes and enter the Demon Fortress, home of great treasure and ghastly creatures alike. Shoot and wall-jump your way up the fortress's towers and battle the evil bosses lurking at the top.

Play solo or join forces with your friends. This game supports up to 4 players. Will you help each other overcome the dangerous traps built to stop nosy adventurers or will you turn on your comrades to snatch the high score? No downtime: If you die while at least one other player is still alive, you will turn into a ghost and can help by freezing enemies. Try to open crates and treasure chests to find a Fairy or Feather that will bring you back to life.
1 to 4 players simultaneous
Cooperate or compete for score
26 spooky levels (normal + hard modes)
Dangerous traps, monsters and bosses
Ancient secrets
Password function allows you to continue your game - in classic NES fashion
If you prefer to get the Steam version: you will not miss out on the ROM file, it is included in the installation folder.
For support, consider joining our Discord Server, the community may be able to help you more quickly than we currently can! We are there, too, of course, replying to messages whenever we are able to.


PC version update (1.0.1); 2019-06-26
- fixed bug that caused the game to get stuck in the menu
| | |
| --- | --- |
| Updated | 4 days ago |
| Status | Released |
| Platforms | Windows |
| Rating | |
| Author | Morphcat Games |
| Genre | Platformer |
| Made with | Allegro |
| Tags | 2D, 8-Bit, Co-op, homebrew, Local Co-Op, Local multiplayer, NES, Pixel Art |
| Average session | About a half-hour |
| Languages | English |
| Inputs | Keyboard, Gamepad (any), Joystick |
| Accessibility | Configurable controls |
| Multiplayer | Local multiplayer |
| Player count | 1 - 4 |
| Links | Steam, Discord Server, Twitter, Homepage |
| Mentions | itch.io Recommends: Old-but-new |
Purchase
In order to download this game you must purchase it at or above the minimum price of $9.99 USD. You will get access to the following files:
Micro Mages Installer-1.0.1.exe
9 MB
Micro Mages portable-1.0.1.zip
9 MB
Micro Mages manual.pdf
5 MB
Micro Mages ROM.zip
32 kB
Comments
Log in with itch.io to leave a comment.
You can't install this game from inside the itch.io app, i think because you havent maked the installer or the portable version as for windows.
Can't download the rom zip file. Server problem.
This game is so fun! Even without the super interesting optimisation and design within the limitations, the platforming feels great and it's been great to play with four friends for some hectic co-op fun. Thanks so much for making this!
Is this playable on a real NES using a flashcart like Everdrive N8?
In theory yes. They made actual game cartridges i believe forthis game as an option for early backers. the game is built within the limitation of the nes and the rom works with nes emulators. I played it on an nes emulator on my psp in fact and it works great
So, this is... uhm... genuinely great. Its not only a throwback to NES games, its an actual NES game made with the limitations of the 40k cartridge in mind. And despite that has a ton of varied environments that incrementally challenge your seemingly simple navigation possibilities further, cool boss fights/animations, simple, but very, very smart level design and cool features for a coop adventure that elevates its excellent single player content even further. Add some coop specific power ups, cool nostalgic callbacks and a hard mode on top of the perfectly snappy controls and you have a winner. 5/5
More Racial Justice bundle impressions and ranking: https://itch.io/c/915453/quick-impressions-bundle-for-racial-justice
Been incredibly interested in this project ever since I saw the video of the creator explaining working through the technical limitations to create this game. After playing for a bit, it's honestly insane how much this feels this thing came right out of the 80s. Definitely check this out.
Looks awesome but somehow i cant download it? I bought the new Bundle and this was included at a later date, which might be the reason.
No, games added to the bundle after you paid for it should also show up.
From the bundle page,
https://itch.io/b/520/bundle-for-racial-justice-and-equality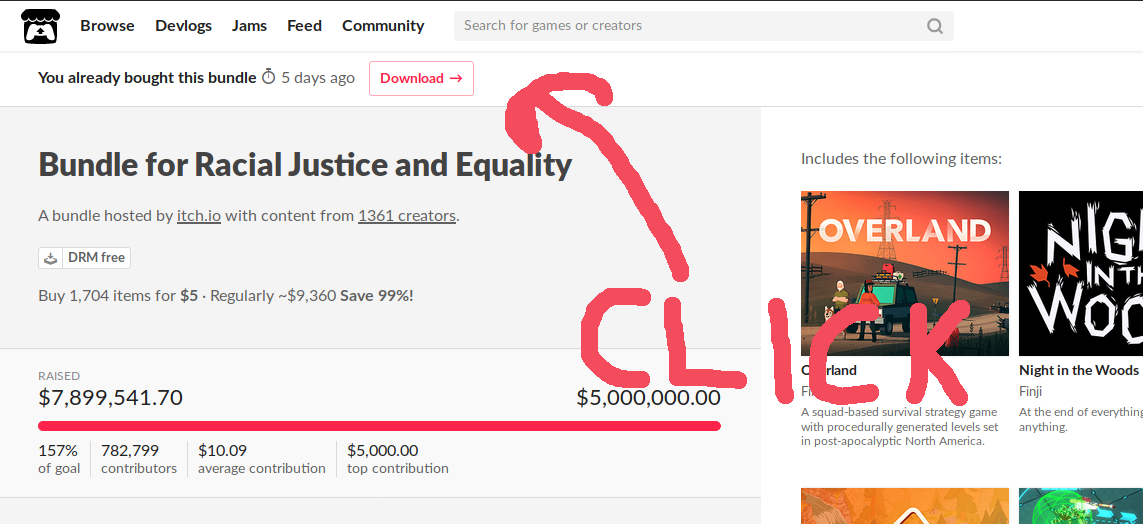 click on download at the very top left. That will show you the whole bundle. Then search for Micro Mages by title: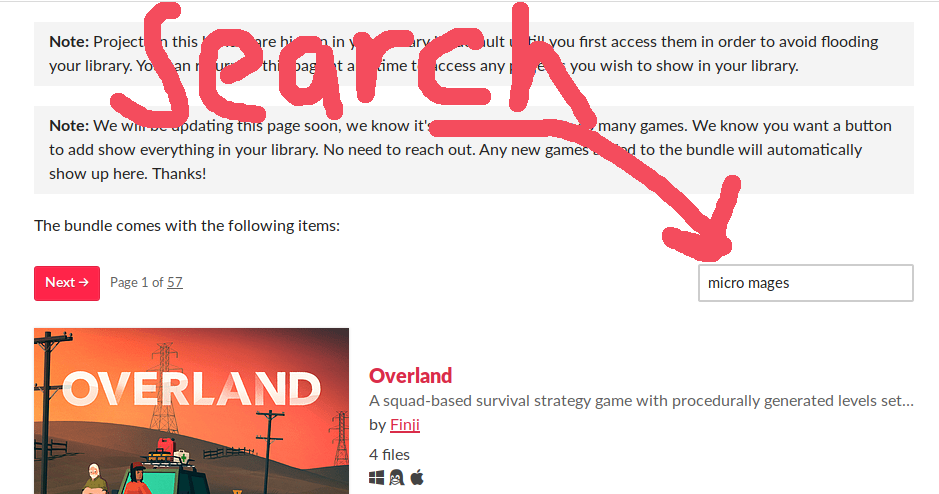 Seems like a cool game, but once the Installer-1.0.1.exe is installed on the itch.io desktop app it doesn't lauch the game but just opens up this page in a web browser. Am I doing something wrong? Or do you have to open it outside of the itchi.io desktop app?
Hi, did you try to download it directly on this page and install it? (not via itch.io app). Normally it will work. Please let us know if it worked.

Sorry, I'm still confused, it says "Includes: - native PC version (Windows)" but when I download all the versions on this page, click on "manage" and find the folder there is only the ROM (which you explain in the .txt file requires emulation). Unless I'm missing something, is there a "native PC version" available on itch? Could I play it on Steam instead? I would prefer not to do emulation if the native PC version is possible. Thanks!

You can also buy the game on Steam, but that's a separate purchase.
When you navigate to the download page on your PC, you don't see these four downloads?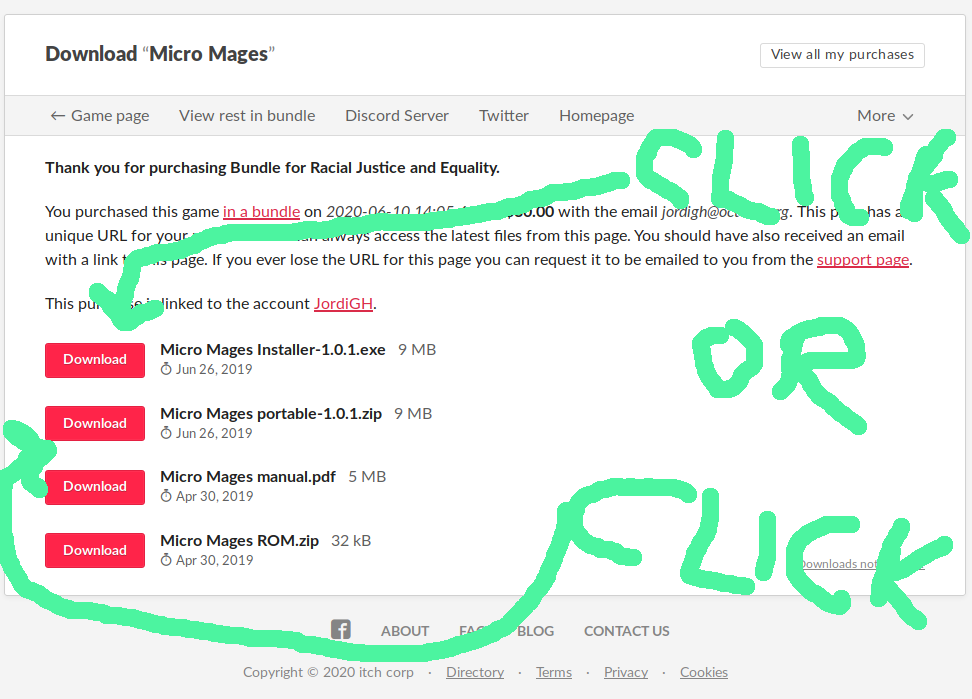 If you download the installer, you should open it to install it on Windows.

If you instead download the portable version, just unpack it anywhere and run the game from it, without needing to install anything.
I believe the PC version is also effectively emulation, since the game is made for the NES. The PC version is probably just another emulator conveniently wrapped around the NES ROM.

Yes, I finally got it to work. You have to go to your web page not on the itch desktop app, download, then run the .exe file. Somehow I missed a step earlier. Great game!
However, just a general comment I want to make. I am not putting any blame on you, I think this is an itch problem, but their UI and explanation about issues like this is minimal or non-existent. I know they are a small team but the latest publicity they have received due to bundles and whatnot should hopefully get them some funds to work on this platform. I will continue to use it of course, I really like playing and testing indie games, but if you any influence on them please tell them - FIX and IMPROVE your platform PLEASE!
This game is amazing! And not just amazing for the NES, but amazing in general, lots of fun! It's really built with multiplayer in mind, so try to find some friends and experience the multiplayer mechanics, like bouncing off your fellow mages or being able to float around as a ghost looking for ways to come back to life.
But it's also fun to play on your own! The game isn't very long. A dedicated player can probably finish it in about two hours. It includes a hard mode, which you need to complete in order to see the true ending, kind of like classic NES games like Ghosts N' Goblins. The difference is that the second loop in hard mode has lots of little changes, from level layouts to enemy behaviour, that really are more like just the second half of the game, kind of like the inverted castle in Symphony of the Night. There are also secrets to uncover and lots of little easter eggs and small references to other games, as classic as Space Invaders and as recent as Shovel Knight.
If you like run-and-gun wall-jumping vertical action, definitely give this game a try!